Alan Chapman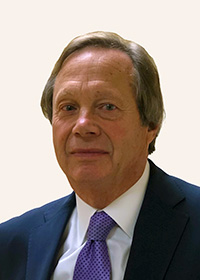 Prior to joining Chapman Partners as a principal in 1995, Alan was the owner of Chapman Realty Group, a real estate brokerage, leasing and advisory firm which remains active in the industry.
Mr. Chapman also has an extensive background in the food industry where, prior to his involvement in real estate, he held management positions with ARA Services, Servomation and Saga Food Service.
He has advised families, individuals and corporate clients in numerous transactions spanning over 30 years. Transactions have included representation of Reyes Holdings, LLC in its acquisition of Reinhart Food Service, advising the McLane Company in its sale of McLane Foodservice to Performance Food Group, and in the sale of McLane Foods to a joint-venture comprised of Swander, Pace Capital and Silver Brands and advising Vend Products in its sale to Vistar Corp.
He serves on the Board of Directors of Children's Memorial Hospital in Chicago, The Children's Memorial Foundation and the Lou Malnati Cancer Research Board. He also is on the coaching staff of the New Trier High School Basketball program as a volunteer.
Mr. Chapman graduated from North Park University in Chicago with a degree in Education.