Grady Rosier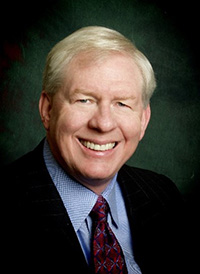 Grady served 25 years as President and CEO of McLane Company, Inc., a 49-billion-dollar supply chain services company based in Temple, Texas and a subsidiary of Berkshire Hathaway until he retired on August 28, 2020. McLane employs 24,000 teammates and provides industry-leading supply chain solutions for thousands of grocery and foodservices retailers across the United States. Also, under McLane's umbrella is Empire Distributors Inc., an alcohol beverage distributor which was acquired in 2010.
As President and CEO, Grady was responsible for all aspects of these operations. Direct reports include the VP Administration, President Grocery Operations, President Foodservice Operations, Aviation, President & CIO/Information Systems and VP Marketing. Grady has served in numerous senior management positions prior to his current role including Senior Vice President, Marketing and Customer Service.
Prior to Mclane and joining Chapman Partners, Grady spent 11 years in various executive roles, concluding with Vice President/General Manager, at Save-A-Stop; a leading regional convenience store chain. Before that, Grady spent six years of honorable service in the U.S. Marine Corps.
Gradys holds a BA in History from the University of Florida and in 2015 he was inducted into the Texas Business Hall of Fame.
A recent newlywed, Grady is married to Beverly Rosier. They enjoy spending time with their two Japanese Chin, Ping Pang and Geisha. Grady is an avid duck hunter and enjoys his work at McLane Company.